Backup your iPhone to ur computer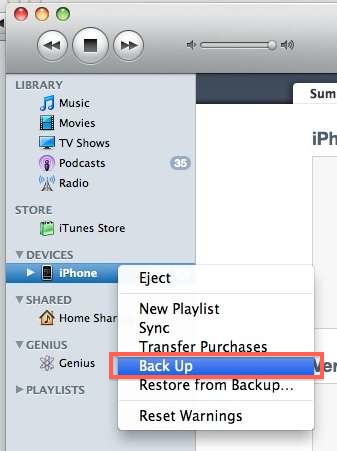 By default your iPhone will automatically sync and create a backup each time your iPhone is connected to your computer. If you want to manually create an iPhone backup though, it is very easy.
How to start an iPhone backup:
1.Plug your iPhone into your computer
2.Launch iTunes
3.Select your iPhone in the 'DEVICES' list
4.Right-Click on your iPhone
5.Select "Back Up"
6.Wait for iPhone backup to complete
This will create a backup of your iPhone that you will be able to restore from later, and the procedure is the same in Mac OS or Windows. It is a good idea to create a current backup before you download and install the latest iOS version.
Does this work to backup my iPod touch or iPad?
Yes, backing up an iPhone, iPod, iPod Touch, or iPad, is all the same process and handled through iTunes in the exact same manner.